About Us
Primary Care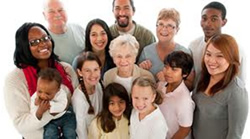 When you come to Prime Healthcare Providers, your entire health care needs, will be managed by your Primary Care Physician.
At our clinic, this may be done by either a Family Practice or Internal Medicine Doctor who are able to care for all adult age groups, to include adolescents to senior citizens. The scope of their practice encompasses each organ system and every disease entity.
The conditions for which they can care include general medical, respiratory, allergic, gynecological, orthopedic, gastrointestinal, dermatological, cardiovascular, geriatric, urological, emotional, minor surgical and traumatic conditions.
The scope of our practice includes:
Preventive Medicine such as comprehensive physicals, cancer screening, modification of risk factors such as smoking and obesity.


Diagnosis, Medical Management and Treatment of illnesses and medical conditions such as high blood pressure, diabetes, angina, ulcers, asthma among others.


Health Care Coordination when specialty care is indicated, as the usual practice is to bring in a consultant from one of the various sub-specialties. We will advise you when a consultation with a physician from one of these sub-specialties may be necessary.

Primary Care Medicine is a dynamic specialty in which we receive information about medical care advances and innovations almost daily. Remaining clinically up to date is an important factor in providing quality, cost effective care.
Prime Healthcare Providers is not responsible for the content of any linked site. See our Terms and Conditions.