Welcome
Serving Houston Families Since 1978....
Thank you for choosing Prime Healthcare Providers as your Primary Care Physicians. We are pleased to welcome you to our practice and appreciate the opportunity to serve your general medical needs.


We are a group of healthcare professionals committed to CARING for you, not just TREATING you. We have been serving West Houston Families since 1978 and have a longstanding history of providing quality medical care.


We are one of Houston's leading fee-based membership practices, founded on traditional family/internal medicine values, providing personalized medical care to a limited number of individuals, families and business executives. By limiting enrollment, we deliver exceptional medical care, at your convenience, with direct physician access and personalized services, available to patients as their schedules dictate. We provide comprehensive preventive medicine, acute medical care, and chronic disease management combined with expert consultation and medical interpretation. Our entire staff's focus is on the coordination and implementation of your care plan.


While emphasizing preventive care and early detection, our physicians are skilled in diagnosis and management of acute and chronic illnesses. Our unique blend of cutting-edge medical technology with old-fashioned family / internal medicine values allows our physicians to practice medicine the way it was meant to be practiced- with diligence, compassion and individualized care.


We take the time to talk with you and know you as a person, because we want you to feel comfortable and confident in the care you receive.


Our mission is to provide our patients with a demonstrable superior value of health care, stressing clinical quality, service and cost effectiveness with an eye toward the future. Our aim is to meet the needs of each individual patient.


We provide you a partnership with a patient-focused team to give you peace of mind that all of your medical and healthcare needs are being addressed.


We believe in the concept of a Patient Centered Medical Home (PCMH) to help provide you a partnership with a patient-focused team to give you peace of mind that all of your medical and healthcare needs are being addressed. A patient centered medical home is a team-based model of care led by your personal physician who provides continuous and coordinated care throughout a patient's lifetime to maximize health outcomes. What this means to you is that our whole team will be partnering with you to maximize your healthcare, not just your doctor.


Take a moment to view this video to find out more about Patient Centered Medical Home and download our 2 brochures, Patient Centered Medical Home (PCMH) and our Membership Information Brochure to learn more.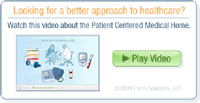 The information that follows is designed to explain our methods of practice and office policies. If you have any questions, please feel free to ask us. The more you know about us, the more we can be of service to you....
.
.
.
.
.
.
.
.
.
.
.
.
.